Seekout.io just launched their new extension tool this month called: Sourcing Assistant. It's similar to Lusha, Connectifier, and Hiretual's browser extensions. It offers features like getting verified contact information (cell phone and email address info) and finds social profiles of users. They've also added features like CRM sales management and AI matching of profiles based off skill-sets. Overall, it's just another great extension to add to your wizard tool belt. Since, it's still a fairly new tool I'm going to be testing it out further within the next few weeks. I'll be including an update within a month or so on my final thoughts on it.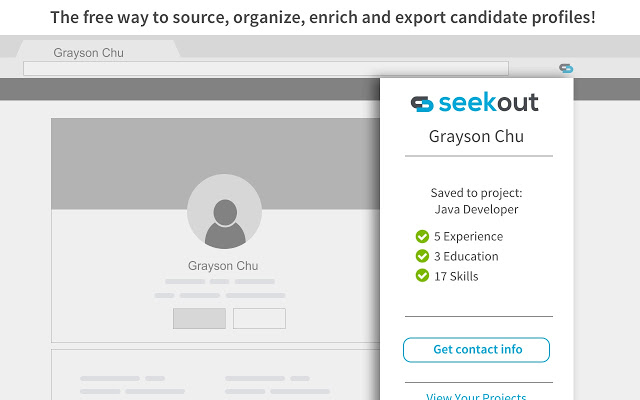 Features include:
Save full profiles from any version of LinkedIn.

Organize them into projects. Use this like a CRM sales management tool.

Get contact information for those candidates. Contact information includes verified personal and work email addresses and social links (fb, twitter, Instagram, youtube, etc.).

Once you've added candidates to a project, SeekOut will suggest similar candidates for you to consider. This can be used to "clone" a single candidate or help round out your candidate pool. (This is the AI powered feature).

Export all candidate data to a spreadsheet. Import it to your ATS or CRM. Overall, this helps to build an active pipeline fairly quickly.
You wont get into LinkedIn Jail
SeekOut has written it in a way that the underlying web page can't detect the extension. So there's no fear of being blacklisted or put into LinkedIn jail from using it like users of other extensions run into.
Pricing:
Free Package: 14-days, unlimited search, contact info for 50 candidates + 1000 profile exports.
Basic package: ($99 per month) Emails for 200 candidates + Export 1,000 profiles per month.
Concluding Thoughts
We're seeing a lot of similar browser tools launching in this space. This tool combines finding candidate contact information, CRM sales management, data exporting, and AI matching candidate lead generation. I would be interested to hear from others on this new extension tool. Please let me know your thoughts in the comment section below.
You can download the free extension here.